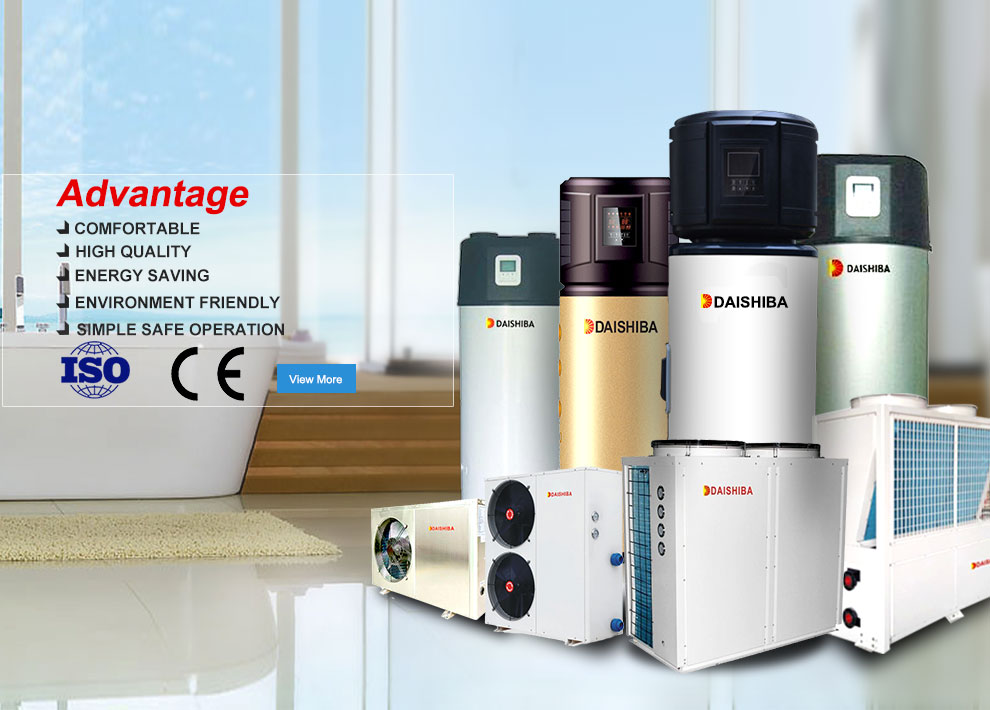 Product Application:
1. Waste heat recovery and domestic hot water
2. Domestic hot water and dehumidfier
3. Domestic hot water & reducing the temperature of a storage room.
Product Features:
n High efficient heat pump rotary compressor
n 1.5kw electrical heating element
n External aluminium coil
n Centrifugal fan motor
n Electronic expansion valve
n 4 water temperature security protection
n TP valve for more guarantee
n Magnesium Anode
n Fins-coils with hydrophilic aluminum foil
n Intelligent defrosting
n Safe, reliable & eco-friendly
n Stable running
n Low noise & vibration
n Easy installation & operation



Product Optional:
1. Solar Coil;
2. SS304 water tank;
3. SS316L water tank.
Installation Diagram:

FAQ:
Q1: Are you a factory or trading company?
A: We are the factory, and especially R&D, manufacturer and sell various heat pump euipment. We have engaged in the heat pump R&D and production over 10 years.

Q2: How to find a heat pump suitable for my product?
A: a. Tell us about your product details;
b. What functional heat pump products do you need;
c. Tell us your local minimum ambient temperature and maximum ambient temperature to recommend products that meet your needs;
d. Power supply specifications and special requirements used in your country.

Q3: Is engineer available to serve oversea?
A: Yes, but the travel fee is paid by you. So actually to save your cost, We provide installation instructions and 24-hour online service and assist you till the end.

Q4: What is the payment term?
A: 30% T/T deposit and 70% T/T balance payment before shipping (If you purchase a sample that requires 100% payment, In order to avoid second payment, bank deduction fees will be generated again). Online trade assurance order, L/C, or as negotiated terms with clients.
Q5: How long is the warranty time?
A: 1 years of warranty. In guarantee period, if spare part broken, we will send you the parts free and we will pay the express fee. And please send us the spare parts back. when machine is out of guarantee period, we will provide you the spare parts by charge.

Q6: How can we make sure about the machine quality after we put the order?
A: Before delivery, we will send you the pictures for you to check the quality, and also you can arrange for quality checking by yourself or by your contacts in China.

Q7: We are afraid you won't send us the machine after we send you the money?
A: Please note our above business license and certificate. And if you don't trust us, then we can use Alibaba trade assurance service, guarantee your money, and guarantee your machine's on-time delivery and machine quality..

Q8: Why we should choose your company?
A: We are a professional heat pump manufacturer over 10 years, and we provide better after-sales service. We guarantee no risk for our deal.
Model

Unit

DHW-20a-150L

DHW-20a-200L

DHW-20a-250L

DHW-20a-300L

DHW-28-150L

DHW-28-200L

DHW-28-250L

DHW-28-300L

Heating capacity

kW

2.0

2.0

2.0

2.0

2.8

2.8

2.8

2.8

COP

W/W

3.9

3.9

3.9

3.9

4

4

4

4

Water tank volume

L

150

200

250

300

150

200

250

300

Rated heated Water outlet

L/h

42

60

Rated houtlet water temp.

℃

55

Max outlet water temp

℃

60

Rated power input

W

510

700

Rated current

A

2.4

3.3

Electric heater power

W

2000

2800

Electric heater current

A

9.6

Power supply

V/Hz/Ph

220-240V/50Hz/1Ph

Compressor type

/

Rotary

Number of Compressor

/

1

Heat exchanger type

/

External coil

Throttling device

/

Electrical expansion valve

Fan type

/

High efficiency and low noise centrifugal fan

Fan discharge

/

Top with 5m exhaust pipe

Fan quantity

/

1

Fan input

W

200

Fan speed

RPM

920

Ambient temperature

℃

0℃~43℃

Refrigerant

/

R134a/R410A

Noise in 1 metre distance

dB

43dB(A)

Water pipe conneciton size

mm

G3/4''

Cabinet

/

Galvanized powder coated steel

Low pressure protection system

/

Yes

High pressure protection system

/

Yes

Automatic defrosting system

/

Yes

Product Net weight

kg

78

84

90

100

81

87

93

103

Product dimensions

mm

Φ560*1500

Φ560*1700

Φ560*1970

Φ650*1800

Φ560*1500

Φ560*1700

Φ560*1970

Φ650*1800

Testing condition

Ambient temp.(DB/WB)=20℃/ 15℃, water temp. Input/output=15℃/55℃
How does a heat pump work?
Heat pump uses electrical energy and take low grade heat energe from the outdoor air heat refrigerant which in turn heats water for domestic use and space heating. The efficiency of a heat pump is know as the coefficient of performance or COP. This is a ration of the heat delivered to power consumed.
At the beginning of the first phase the refrigerant is cold low pressure liquid.
1. The refrigerant passes into the evaporator and heat energy from the outside air passes over the evaporator causing the refrigerant to increase in pressure and change to warm vapor.
2. This warm vapor then enters the compressor where its tAAAemperature increase as result of the compression process and turns into a hot gas.
3. The hot refrigerant gas is then condensed as it passes across one side of a plate heat exchanger, and this is transferred via the primary water circuit to heat up the water tank.
4. Despite dropping in temperature, the cool vapor still has a high pressure and to reduce this pressure the vapor passes through an expansion valve. This cause the pressure to drop and the temperature lowers, returning the refrigerant to its initial state of cool low pressure liquid.
This process is repeated.
It is only the refrigerant that passes through this cyclel; the water is heated as it travels through the plate heat exchanger. The heat energy from the refrigerant passes through the plate heat exchanger to the cooler water which increase in temperature. This heated water enters the home heating circuit and also be used to provide domestic hto water via a hot water tank.